Courses & Classes:

Weekly Classes:
Monday Torah and Tea Women's class 10:30 AM
Zoom class

Monday Evening Tanya Class 8:30 PM



Tuesday Jewish Values & Ethics 12:00 PM
In person class.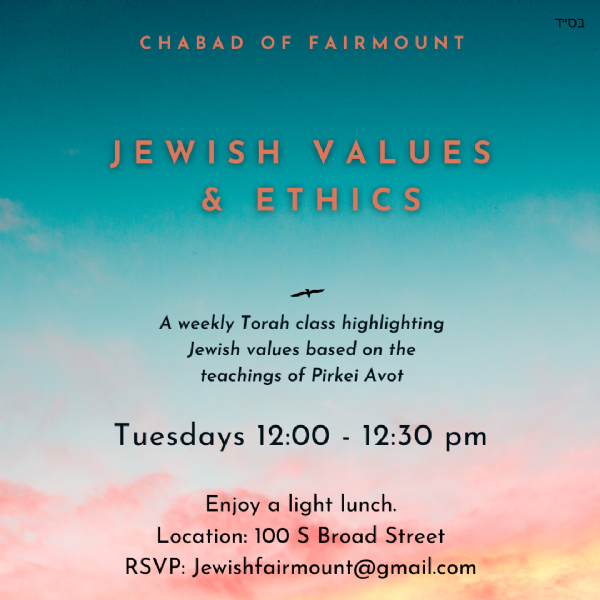 Wednesday Lunch and Learn 12:00 PM
Zoom class.



Thursday Judaism 101 4:00 PM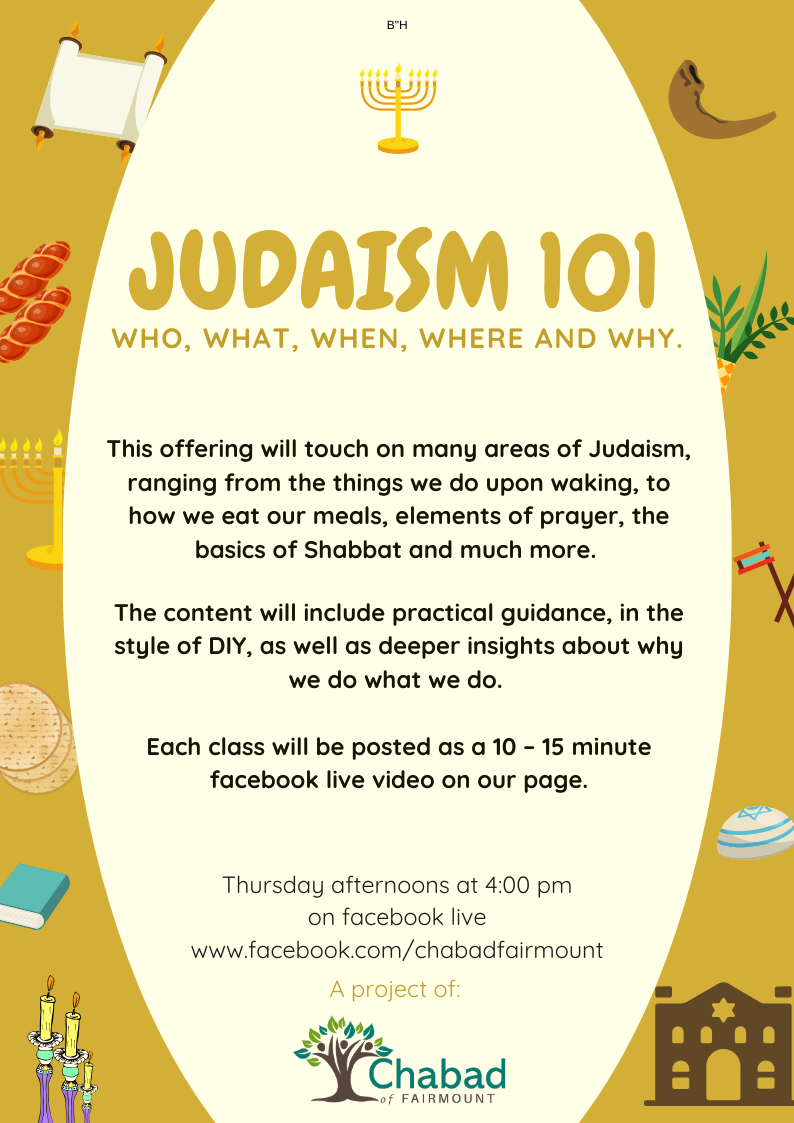 Upcoming Course:

Journey of the Soul
Journey of the Soul explores the mysteries surrounding the spiritual dimension of our existence.
What happens when we die? We know what happens to the body. But what happens to the soul at birth and again at death?
Is there really a "better" place after this one?
Do our loved ones continue to connect with us?
Can I relate to an afterlife if I'm not spiritual? 
We will analyze Jewish perspectives on life that begins before birth and lasts well after a person's passing.
It's a journey we all take, and it's yours to explore this Spring.

Presenter: Rabbi Hirshi Sputz
Spiritual leader at Chabad of Fairmount
Lesson 1 – Life & Death
What is a soul? Why are humans so anxious about death and dying? By exploring how our life force—our immortal soul—never ends but merely shifts roles, we begin to view life and death as two harmonious steps on the same journey.

Lesson 2
Taking Leave
Is death painful for souls? Is my presence felt when I visit a grave? Judaism's pre-burial and burial rituals accompany the soul's gradual transition from a limiting physical life to a completely spiritual one. We discuss those rituals and how, once freed, the soul's connection to the living continues in new and powerful ways.

Lesson 3
The Mourning After
What is the Jewish grieving process and what is the significance of its traditions? What can we do to assist the soul in the afterlife?  This lesson provides a meaningful Jewish perspective on grief itself, as well as practical Shiva etiquette both for mourners and for those who wish to comfort them.

Lesson 4
Where We Go
For centuries, human beings have been motivated by the promise of heaven and frightened by the threat of hell. Discover what Jews believe about where every soul goes and how Kaddish aids a soul in reaching true peace.

Lesson 5
Where We Go Again
Reincarnation: more than a fascinating topic, Judaism provides a practical way to imagine this mystical process, and explains why it is important both to departed souls and to our lives today.

Lesson 6
Life Is Short(ish)
By now we've come to appreciate death as the next phase in our ongoing personal missions. In our final lesson, we use what we've learned to revisit our priorities in this current phase and find ways to fill every moment with everlasting significance.
Courses & Classes:
Past courses

Lesson One - Soul Words

Just as Freud developed the vocabulary that enable you to speak about your psyche, the Tanya provides the key terms that allow you to speak about your soul. . . or souls. What kind of person are you? What is the source of inner conflict? This lesson teaches you the words you need in order to answer the question.

Lesson Two - Getting A Grip on Yourself

It can be enlightening to know why you succumb to temptations that you wish you had resisted. But is there a strategy to gaining self-control? This lesson provides practical guidelines for overcoming weakness and learning to control behavior.

Lesson Three - Sync or Sink

When your heart's passion pulls you one way and your measured mind pulls another way, the disconnect can be agonizing. This lesson will teach you two methods for aligning reason and emotion, so you can reduce stress and live decisively.
Lesson Four - The Joyride

Constant doubt and emotional unhappiness can gradually sap you of the strength and will to change. But joy provides the boost that allows you to live each day with enthusiasm and resolve. This lesson provides useful perspectives that can help you generate a positive attitude.

Lesson Five - The Big Picture

Even after learning methods for overcoming personal challenges and pursuing goodness, you may still wonder why it all matters. What is the purpose of imperfect attempts at perfection? Do your human failings condemn you to be a personal failure? Or might your weaknesses provide an opportunity for a making a unique contribution to the world? Lesson Five allows you to make peace with your personal struggles as you consider your place in the larger scheme of things.

Lesson Six - Have a Heart

For those who are patient enough to pursue a slow fix, this final lesson provides meditations and guidelines for reshaping your essential nature over time, while recognizing that the true key to living purposefully is behaving purposefully.